McPherson wheel suspension
This is the front axle. It was simplified to the maximum. The polyurethane foam element is spring, damper and bearing. The McPherson suspension is a well accepted design but is it the lightest alternative ?
In the first comment on this post Bob Stuart, the designer of
The Car-Cycle X-4,
argues that the McPherson is one of the lightest options. In our design of a micro electric car
(Elite
) we used an alternative construction. It is a sort o
f
torsion beam suspension.
Because the distance between the wheels is so little, this construction may be lighter than the McPherson. Another advantage is that it incorporates the anti-roll function.
This drawing shows the wheel suspension of the Elite micro electric car. It was mounted to the body via silent blocs
The McPherson construction distributes the wheel load over six distant points on the monocoque. Large torque loads will be transferred as small forces in these points (braking, cornering). This seems all very beneficial but the McPherson construction urges us to strengthen the monocoque at places where we really don't need it to be strong at all, would we not have this suspension. When we use a McPherson suspension we are forced to add material at the mounts of the longitudinal arms and vertical columns. We also have to increase the lateral rigidity, for instance with an u-frame between the front wheels. This may increase the body mass. The torsion beam axle connects to the monocoque at the front side of the seat. This is a place where we need it to be strong and stiff anyway...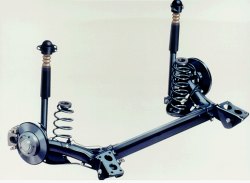 Torsion beam suspension